We are one of the prominent green building material manufacturers, exporters, and supporters of Waterproof Coatings in India. Our green mineral waterproof coatings are extensively demanded in the market due to its high quality and effective performance. Our Waterproof Coatings one of its kind products available in the market, give assurance of the best waterproof and thermal proof coating. You can avail our Waterproof Coatings easily at affordable prices.
Brand Name :
Hi – Cool
Why Our Waterproof Coating?
With insulation mineral and fibers
Keep the temperatures cool inside the building
Green building material
Excellent heat and water proofing
Easy to apply
Effective performance
Cost effective
Applications :
Base coat on exterior walls of building
RCC roof
Plastered surfaces
Weather tiles
Water tanks
Effective performance
How To Apply?
Clean surface neatly by using a hard brush
Clean lose material from surface
Fill the holes, cracks, and rough surface with raw HI-Cool
Leave it for four hours for drying, then prepare our Waterproof Coatings to apply
Dilute Hi-Cool in 400-500 ml water, then stir well and apply on the surface
For best results, apply two coats within the interval of 4-5 hours
Area of Applications
Above RCC Roof as water and thermal proof coating
As Base Coat on Heat radiating Exterior, Interior Walls
Above plastered Surfaces of Sunken Areas
As Protective coating above Weather Tiles
FOr Water Tanks as Anti Dampness Coat.
Added fibres protect roof and walls from surface cracks.
Can be applied on all surfaces Wherever water proofing and thermal Insulation is required.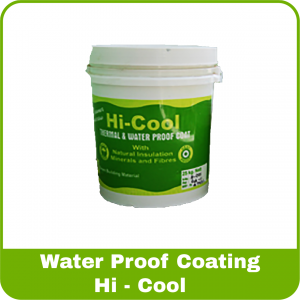 Packing's Available:
10 KG